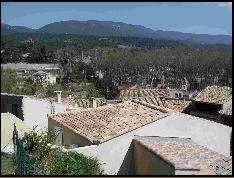 Natural History
The Luberon regional nature park (and UNESCO Biosphere reserve), has an ancient (but not native) cedar forest on top. Very good butterflies and birds can be seen there as well as insects like neuropterans (Ascalephids), stick insects (phasmids) and different grasshoppers and crickets.
In April, seven species of terrestrial orchids are common, whilst later helleborines are abundant. In May, bee-eaters nest in a sandy bank by the road near the village, and for the last two years a pair of hoopoes have nested just below the kitchen window. In September: goshawks, Borelli's, short-toed and golden eagles, ravens, crested tits and firecrests may be seen. At this time, many species are on migration (cirl buntings, pied flycatchers, tree pipits etc.) In July, at the Camargue, black kites, marsh and Montagu's harriers, little egret, black-winged stilts, bearded tits (Etang de Fangassier); 3 types of egrets, purple and squacco herons, collared pratincoles (Mas d'Agon); buzzards and rollers (near junction RN113 and D5 at La Crau). By car, about 1½ hrs to Etang de Vaccarès.
Other attractions
The Luberon is notable for its beautiful villages (Bonnieux, Roussillon, Lourmarin, Gordes etc), its local specialities and its tradition of arts and handcrafts. More information at: www.parcduluberon.fr (in French)
The most interesting villages near Cucuron are Ansouis, where the chateau is open for visits, Lourmarin, where the chateau hold art exhibitions and there are many unspoilt hill villages on the Luberon like Bonnieux and Menèrbes. Further afield is the small town of Apt on the other side of the Luberon, with an ancient cathedral and good shops for Provencal materials and pottery, and the antique dealers Isle sur la Sorgue near Cavaillon. Roman Provence is accessible by car, (St Rémy, Arles, Nimes and the Pont du Gard to the south, Orange and Vaison la Romaine to the North) as is the Camargue, with the crusader port of Aigues Mortes, and further inland, the fortified village of Les Baux.
The local tourist office in Cucuron has good information and maps of walks and mountain bike routes on the Luberon. The Etang de la Bonde three miles away is a popular bathing lake, suitable for adults and small children, and there is an excellent swimming pool open in the summer at the nearby town of Pertuis (divided into a shallow pool for children and a larger adult pool.)